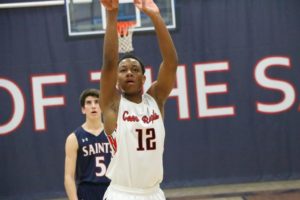 Written By Matt Bigelow (Prep Hoops)
—
A big reason for Coon Rapids' turnaround season has been swingman Lionel Warner Jr.
Warner's had a monster year, averaging 18 points and six rebounds for a team that has hopes of getting to the state tournament.
"Everything is going good right now," said Warner. "We're 12-12, having a nice year. We've played some good teams tough. We're playing well down the stretch, getting ready for playoffs."
There's a lot to like about Warner's game. Standing 6-foot-3 with a strong frame, Warner's got an advanced offensive game that includes range beyond the 3-point line and the creativity to make plays for himself or his teammates off the bounce. He's an aggressive offensive player who isn't going to back down from anyone either and he's maintained a level of consistency throughout the year playing in one of the best conferences in the state.
Coon Rapids has a good shot to land the No. 3 seed in the section and after splitting the season series with Blaine and beating Forest Lake, the Cardinals feel good about their shot to make a deep postseason run.
Warner will have to continue to lead the charge. It's been a terrific bounceback type season for Warner and it's led to a lot of college interest.
"I've been in touch with St. Mary's a lot," said Warner. "They've been coming to a lot of games. Central Iowa, Upper Iowa. I just talked to Williston State. I'm going to start taking visits when the season is over."
Lionel has since committed to Anoka Ramsey CC with fellow TC Finest and Coon Rapids teammate TyReeon Johnson