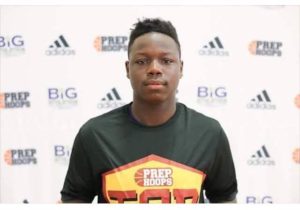 Written by Ryan James (Prep Hoops)
—
Jovan Christian scored 19 a game as a sophomore for St. Paul Harding and he's now got big goals for his team.
"We are trying to make it to state," Christian said.
Christian is already three-quarters way to 1,000 career points with his current 747 career points. Last year he had 30 and 32 in back to back games against Humboldt and then Washington.
There are three areas he is working on to improve for next year.
"I want to improve my defense, my ball handling, and my jump shot," Jovan said.
Christian played 16u this summer with Twin Cities Finest and had another strong year.
"The AAU season was great and we had our up and downs but as a team I think we did good and getting ready for the next year AAU season."
Jovan also mentioned that he's hearing from two college basketball programs, Winona State and Augustana.
Link: https://www.prephoops.com/2017/09/recruiting-report-jovan-christian-2019/