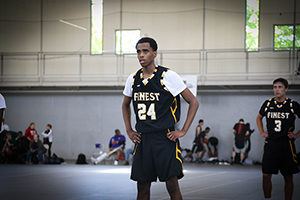 Written by Matt Bigelow (Prep Hoops)
—
Coon Rapids has a chance to be a sneaky good basketball team this winter after winning just three games a season ago. A big reason for that optimism is senior forward TyRee'on Johnson.
Johnson spent the spring and summer playing grassroots with Twin Cities Finest where he showed off an impressive combination of size and skill and his success on the AAU circuit caused several schools to take notice.
Johnson said Augsburg, Minot State and Lake Region State are three schools showing him the most interest. He's visited Augsburg and he's hoping to visit Minot State at some point before the basketball season officially starts.
Johnson also said he's not in any hurry to make a college decision and that he's hoping that some increased success this upcoming winter can draw some more interest in other colleges.
"We can win a lot more games than we did in past years," Johnson said. "I think we can wake some teams up this year. We'll have a lot of seniors and a lot of experience."
At 6-foot-5, Johnson has a multi-dimensional skillset. He's big enough and tough enough to play power forward in stretches but also has the skills to take on ball-handling responsibilities. Johnson said he'd like to play some point guard and will take on more of a role this upcoming winter at Coon Rapids at the point.
Whether he's a primary ball-handler or secondary guy, his ability to create off the dribble for himself and others makes him a tough cover because of his size.
Johnson is a jack-of-all-trades type of player in that he can impact the game in a lot of ways and doesn't have to score to have a positive impact on his team. He averaged 10 points, five rebounds and about four assists per game a year ago.
"I'm an all-around type of player," said Johnson. "I can score, I can get rebounds. I love to play defense. I pass the ball well. I'm excited about this upcoming season. We're going to be a lot better than people think."
TyRee'on has committed to play for Anoka Ramsey CC with TC Finest and HS teammate Lionel Warner Jr.
Link: https://www.prephoops.com/2016/10/recruiting-report-tyreeon-johnson-2017/