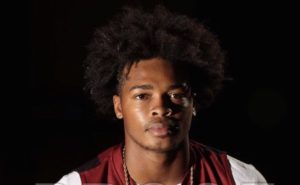 Written By: Ryan James (Prep Hoops)
—
Richfield wing Anthony Sanders is a football standout looked at a couple NSIC schools who is also should be a key Spartan hooper this year.
"I've been training ever since football has been over for us at Richfield and I played AAU with TC Finest and then with Air Force One," Sanders said. "My junior year was a great experience making it to the section finals and then devastating to lose by three (to St. Thomas Academy)."
Sanders was a varsity contributor off the bench last season and his role will be much bigger. He's improving daily.
"I have been focused on becoming more of an offensive threat," Sanders said. "We have one returning starter then we have some that are returning with varsity experience and we have one varsity player that played last year that isn't playing this year.
"We look to do better in the regular season then we did last season and make it to state."
As far as himself, Sanders wants to be more of an offensive threat this winter.
"I am focused on getting open shots for me and my teammates and sharing the ball and feeding the hot man offensively," Sanders said. "I'm looking to lead my team on defensive add almost every aspect."
Sanders is a scholarship football prospect looking at a pair of southern Minnesota NSIC teams.
"I have been talking to Minnesota State-Mankato and Southwest Minnesota State for football and I've visited Mankato," Sanders explained.
https://www.prephoops.com/2017/11/recruiting-report-anthony-sanders-2018/