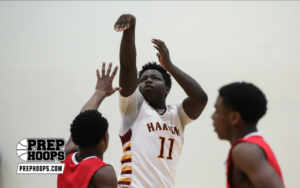 Written By: Alex Connover (Prep Hoops)
—
Shooter Jovan Christian averaged 19 PPG last year as a sophomore for a Harding team that went 7-18 and mostly struggled.
Now, as a junior, he is averaging 19 again, but his team is sitting at a much-improved 6-4. Christian is trying to start a movement at Harding that will help grow school pride and game attendance.
"Harding is my neighborhood school," Christian told NHR. "We got winning pride, but we need more people to come out and watch us play. We work hard in practice every day to try and get the W. The pride is really rising, we just had a lot of kids out at our game against Henry Sibley."
He notes that the young talent coming up at Harding will help boost spirit and win games.
In the Trinity holiday tournament game that I saw, Jovan fired off six or seven threes. He truly has an ability to collect buckets from the perimeter.
"I really do love shooting 3s," he said. "It's a passion, I've been shooting 3s all my life. I work on it every day, I stay in the gym shooting. I do stutter-steps, practicing shooting off the dribble, different scenarios."
Jovan played club ball for TCs Finest this summer and is currently sitting as our 40th-ranked player in the 2019 NHR rankings.