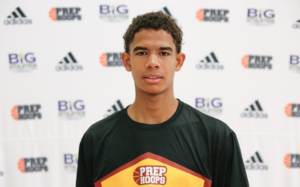 Written by: Jared Martinson (Prep Hoops)
—
Very seldom do you find a high schooler who can rattle off exactly what they want to do with their future. When that high schooler is a basketball player and their biggest goal isn't even something to do with the sport, that's impressive.
Enter Simley/Twin Cities Finest guard Isaiah Robinson.
"I look forward to attending a college that has a strong mathematics program," he said. "My goal is to obtain a four-year degree in Actuarial Science."
I had to Google what Actuarial Science is. (It's the concept of applying math and stats to assess risks of insurance and finance.)
Pretty cool stuff. He's also one of the better scorers in the east metro, contributing a hair over 19 points per game as a junior for Simley while anchoring perimeter defense for the Spartans. "I have the ability to get to the basket on offense. On the defensive end of the floor I have shown the ability to defend my man and assist my teammates," Isaiah said. "One thing I can improve on is making more mid-range jumpers."
He's stepped into a major role with Twin Cities Finest this spring and is enjoying the experience while improving his skills. He's putting up double-digits and taking on the challenge of guarding the best opponent.
TC's Finest is on the fringe of the 17U top 25, but Isaiah thinks there's steady improvement happening already. "My AAU season is going good this year, this is my first year playing for Twin Cities Finest. I really like the organization and the coaching staff. Individually I'm playing well on both sides of the ball. As a team we've lost some close games down the stretch so far but we are tweaking some things and we're going to get better by beating some teams ahead of us," Isaiah told NHR. They'll have plenty of opportunities to get back into the mix with a handful of tournaments left before July.
"We will play in the Prep Hoops Battle at the Lakes, Minnesota Fury Shootout, NHR State Tournament, Gym Rats Summer Brawl in Iowa and a couple of more that have not been determined. For high school we will play on June 9-10 in the MN Hoops Classic, June 22-23 at the U of M and July 8th at East Ridge High School."
As an individual, Isaiah is ready to be noticed and wants to pair his talents with his academic vision. And the best way for him to do so is to help lead his team. It's starting to pay off with some interest.
What are you looking forward to in your last year of High School ball?
"Recruiting is beginning to pick up for me coming off a junior year averaging 19 points a game. I have received some invites to college camps that I am going to be attending throughout this summer. Plus throughout this spring some colleges have been reaching out to my AAU coach."
Be on the lookout for Isaiah and his team this coming weekend at the Prep Hoops Battle at the Lakes and beyond!